Phase 1 Pediatric Orthodontics
Help Your Child's Smile Shine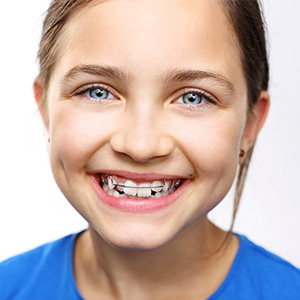 By the age of seven, your child's mouth and oral structures will be developed enough for a trained orthodontist like Dr. Anas Athar to evaluate them. Unfortunately, he may determine that severe misalignments, bite dysfunction, or other orthodontic concerns are in their future. By getting a headstart on treatment with Phase 1 Pediatric Orthodontics, parents can ensure that their son or daughter's one-of-a-kind smile grows up healthier and happier! In fact, we may even be able to circumvent the need for extensive orthodontic treatment later down the road.
If you'd like to get started with a complimentary consultation, contact Bringing Smiles at any of our seven practice locations in the DFW area, including Garland, Carrollton, Plano, Mesquite, Rowlett, and more.
How Do I Know if My Child Needs Phase 1 Pediatric Orthodontics?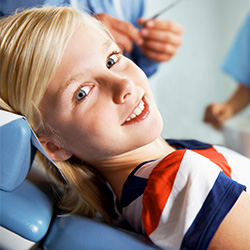 If you notice any of the following issues regarding your son or daughter, please don't hesitate to reach out for further assistance:
Their teeth seem noticeably protruded.
They struggle to chew and/or bite properly.
They accidentally bite the inside of their mouth and/or lips on a regular basis.
They are still sucking their thumb and/or fingers past the age of seven.
They struggle with tongue-thrusting habits past the age of seven.
They have large spaces between their teeth.
Their teeth seem strangely overcrowded.
How Does Phase 1 Pediatric Orthodontics Work?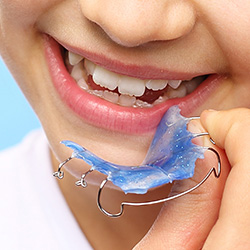 Every Phase 1 treatment plan is unique, as they are designed fully around the specific needs of the child, their age, their current stage of dental development, and other factors. Dr. Athar may recommend capturing X-rays, photographs, or impressions of your son or daughter's smile in order to ensure that he's taking the right approach.
Possible treatment options for Phase 1 include the use of fixed or removable appliances, space maintainers, and at-home interventions that the parents themselves carry out to stop bad habits. This process may be relatively short in nature, or it may continue on until your child is old enough to start the second phase of orthodontic treatment. We will carefully monitor their progress throughout regular visits to ensure maximum effectiveness.
What are the Benefits of Phase 1 Pediatric Orthodontics?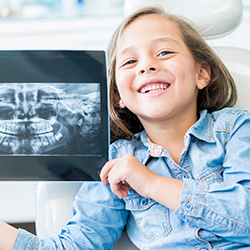 Pursuing Phase 1 Pediatric Orthodontic treatment for your special son or daughter can have numerous valuable benefits that positively influence their oral health, their self-esteem, and their overall quality of life well into the future! Possible outcomes include:
Successfully stopping harmful habits like tongue pushing, thumb sucking, and finger sucking so that teeth are allowed to develop properly.
Improving your child's regular oral healthcare routine at home.
Guiding the gradual development of permanent (adult) teeth so that they emerge into the ideal positions.
Correcting protruding teeth and minimizing their risk of experiencing damage over time.
Reducing (or even eliminating altogether) the eventual need for more advanced and extensive orthodontic treatment, saving your family money in the process.
Improving your child's self-image and giving them the enthusiasm to live every day to the fullest!