Invisalign® & Invisalign Teen®
Creating Straight Smiles Seamlessly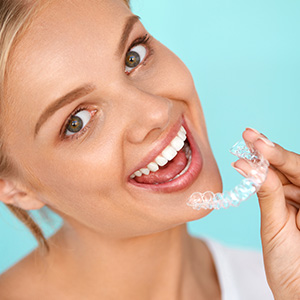 We understand – braces are a big commitment that can take away from your appearance and sense of self-confidence for years at time. That's why so many patients who could benefit from this type of treatment choose to go without it instead. At Bringing Smiles, Dr. Anas Athar wants to give patients the best of both worlds: subtle, aesthetically pleasing treatment and stunning smile improvements! That's why he offers both Invisalign® and Invisalign® Teen at seven different office locations throughout the Dallas-Fort Worth Metroplex. If you'd like to explore these orthodontic options in greater detail, contact us today.
How Does Invisalign® Treatment Work?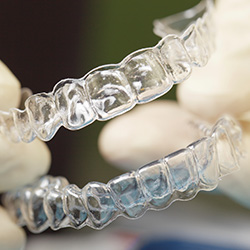 The Invisalign® System combines the age-old effectiveness of orthodontic treatment with state-of-the-art, 3-D technology. Instead of using wires and brackets, patients will receive a series of clear, custom-made aligners that each represent a different stage of the patient's smile as teeth are gradually shifted towards their ideal positions.
First, you will need to undergo an initial consultation with Dr. Athar so that he can determine whether or not you are good candidate for Invisalign® treatment. Patients with severe misalignments and/or bite concerns may be better served by traditional orthodontics. Then, we will forward our treatment instructions to the Invisalign® laboratory, where the aligners will be painstakingly crafted. You may receive as few as 12 or as many as 48. Each aligner needs to be worn for an average of two weeks at a time before switching to the next one in the set, and patients need to keep them in the mouth for at least 22 hours every day as well. Week by week, your teeth will look and feel a little more orderly. Before you know it, you'll be smiling brighter than you ever did before!
When using Invisalign® clear aligners, patients will need to plan to visit Dr. Athar at regular intervals (usually every six weeks) so that he can assess your progress and ensure that the desired results are proceeding smoothly.
What are the Benefits of Invisalign® Treatment?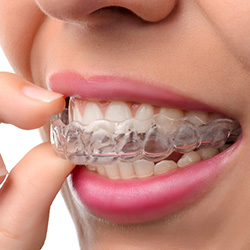 Like the name implies, Invisalign® treatment is virtually unnoticeable when worn. The clear aligners blend in very well with your natural teeth!
The Invisalign® aligners are fully removable, which means that patients can take them out of the mouth when enjoying a meal or brushing and flossing at the end of a long day. Do you want to remove your aligner for a series of photos or a big party? This is fine as well, as long as you resume wearing it within an hour or so.
Patients won't have to worry about severe discomfort or being scratched by orthodontic wires. The aligners are made from a clear, comfortable plastic that's designed with your unique mouth in mind.
While every case is different, most Invisalign® treatment plans do not last longer than 18 months. Patients will be able to complete their smile transformation in a much speedier timeframe than traditional orthodontics, which can take upwards of 2-3 years.
What are the Differences Between Invisalign® Treatment and Invisalign® Teen?
Invisalign and Invisalign® Teen are highly similar and will rearrange teeth in the same way. However, there are some small differences that patients should be aware of. For instance, we want to accommodate your teen's busy lifestyle throughout the treatment process; for that reason, a greater number of aligners are provided in the off-chance that one becomes lost or broken.
Invisalign® Teen aligners also have a small dot. This dot will gradually change color throughout its use, shifting from blue to clear and then to white. The colors correspond to the aligners' lifespan, and Dr. Athar will be able to use them to tell if his younger patients are wearing them properly. They also serve as good reminders for your son or daughter when it's time to change their aligner!
Bringing Smiles may use the following technologies to aid with the Invisalign® treatment process:
PROPEL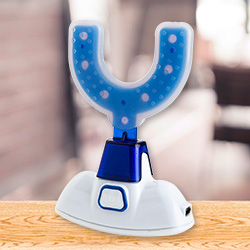 Dr. Athar understands that his patients want to straighten their teeth and achieve a more attractive smile as fast as possible, which is why he offers the use of PROPEL technology to expedite the process. Using the device, he will create one or more small holes in the patient's underlying jawbone. This will have two effects – the teeth will be more pliable and easier to shift, and the increased blood flow caused by the procedure will stimulate new bone growth in the vacated areas of the mouth, encouraging dental migration as well.
The use of PROPEL can cut your orthodontic treatment time down significantly. For many patients, their smile's transformation only takes half the time it would have initially!
iTero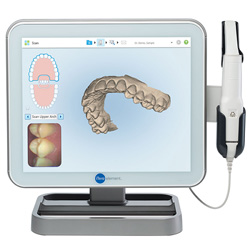 State-of-the-art iTero technology has made Invisalign® treatment easier, faster, and more proficient than ever before. Plus, our patients are much more comfortable! This device will create a comprehensive, three-dimensional scan of the mouth – no "goopy" impression materials, no gagging. The process is fast and accurate, and the possibility of needing time-consuming retakes is minimized as well. As a result, your aligners will be highly customized and fit like a glove.