Orthodontic Appliances
Keeping Smiles Healthy & Happy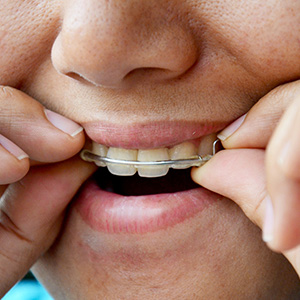 Braces may be the most well-known form of orthodontic treatment by far, but Dr. Anas Athar actually has a wide variety of appliances to offer patients with smiles at different stages of development. At Bringing Smiles, you and your family can rest assured that we'll always fully explain our recommendations of these devices and how they can leave teeth with long-lasting benefits. Plus, our services can conveniently be found at seven different offices all over DFW, including Murphy, Garland, Mesquite, Rockwall, Rowlett, Plano, and more, so dedicated treatment is never too far away. Contact us today to schedule a first visit.
Here are a few of the appliances Dr. Athar may encourage patients to use before, after, or during traditional orthodontic treatment:
Retainers – Once orthodontic treatment is completed, teeth may try to stray back towards their original positions. Thankfully, the consistent use of a custom-made retainer can prevent this reversal. There are multiple types of retainers, including an "invisible" model that's crafted from clear plastic and a Hawley appliance that's made of acrylic and wires. In most cases, patients will need to wear the retainer day and night at first before eventually switching to nightly use.
Palatal Expander – Palatal expanders are dentofacial orthopedic appliances that help to widen the upper jaw. This will develop new spaces between the front teeth, which braces will correct. Dr. Athar strongly recommends that patients start wearing a palatal expander (if they need one) before the age of 15, as the bones will still be pliable and easily adjusted at that stage.
Headgear – Headgear is most commonly recommended for correcting severe overbites. The device will attach to braces through the use of metal hooks or a facebow, and straps and/or a headcap will hold it sturdily in place.
Spacers for Braces – Spacers are very small plastic rings that Dr. Athar inserts between back teeth. This will create space for the eventual placement of braces.
Tongue Spurs – If your child has a serious problem with tongue thrusting, an open bite can develop over time. Thankfully, a tongue spur can help them relearn the proper position for their tongue when swallowing and also prevent undue pressure on the teeth.